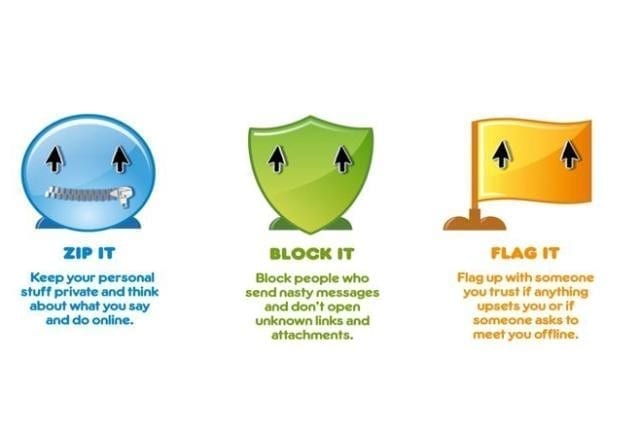 In school we use Zip It! Block It! Flag It! to remind us how to act safely on the Internet.
The code has three simple actions:
Zip it – keep your personal stuff private and think about what you say and do online
Block it – block people who send you nasty messages and don't open unknown links and attachments
Flag it – flag up with someone you trust if anything upsets you or if someone asks to meet you offline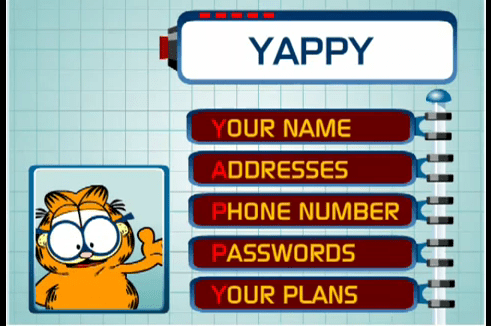 Garfield also reminds us how to keep safe on the Internet. Remember don't share your YAPPY online as it is your personal information.
Safer Internet Day
We take part in Safer Internet Day each year. 
Sam's Presentation
Sam, one of our pupils has made this presentation about how to keep safe online. He presented it to the whole school in assembly. If you look at it, I'm sure you will agree that he has done a great job.
Resources to help you stay safe online.
Lego Privacy and Safe Sharing Adventure – Lego have released a new, free online safety resource for parents and their children. Called Build and Talk, it's a question and answer story game to allow parents to talk to their child about digital safety and wellbeing.
Here are some websites which will help you to stay safe on the Internet.
Think U Know (where you can report Online-Safety concerns)
Click the CEOP sign at the bottom of the page to take you to their website where you can report anything that worries you on the Internet.